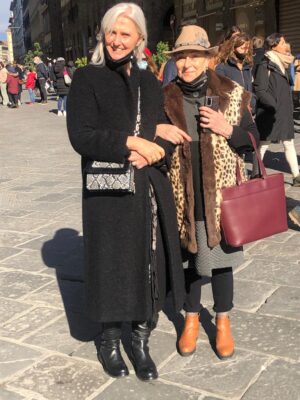 L'artista che vive e lavora a Norimberga è rappresentata dalla Galleria d'Arte Mentana di Firenze 
TESTO CRITICO
"Osservando le opere di Eva Breitfuß si coglie una molteplicità di modi espressivi che però hanno una cifra stilistica identificativa, chiara e distintiva. È come se ci si immergesse in sfere che portano a cogliere geografie che si allargano all'infinito e si palesano in galassie che, diventate impronte di luci, conducono anarrazioni che si uniformano ai percorsi del pensiero dell'artista che trova la via nell'essenzialità della sintesi.
La ritmicità di abbozzi di frame, ripetuti in successione, porta ad una pittura dove la forma ha perso la
funzione descrittiva per lasciare spazio al segno e al colore, spesso rarefatto. Le sue opere sono racconti
che, palesandosi in leggeri e tenui colorazioni, come mandala, descrivono percorsi che conducono ai valori
più elevati e profondi della vita. Sono viaggi del pensiero che originano segni e geometrie ideali che vogliono
sfuggire le regole che imbrigliano la spontaneità creativa, per vivere la libertà sia delle linee che del discorso
che si perde in pennellate che si espandono vestendosi di luminescenze coinvolgenti. Eva Breitfuß, nelle
stilizzazioni, che portano al dissolvimento del colore e del reale, fa affiorare le connessioni immaginarie con il
tempo e con lo spazio: diventati tangibili nell'atto creativo. Le spirali del pensiero emergono nella gioia del
vivere e nella speranza di ritrovare un mondo che lasci spazio alla essenzialità dei contenuti formali e arcaici
insiti nell'uomo. Armonie di note e di linee curve e chiuse, più grandi o più piccole, creano trame di percorsi
che imbrigliano la fantasia per riportare i pensieri alle esperienze del vivere, dove il ritmo di una musica
segreta e malinconica sfugge all'analisi che gli assi prospettici, accennati ma visibili, vorrebbero portare al
razionale. Le tracce della libertà interiore si evidenziano in andamenti sinuosi che seguono percorsi ideali
diventati curve di livello punteggiate da giardini di segni che non seguono percorsi reali. Così il suo afflato
creativo s'inoltra nel mistero per chiarirsi nell'espressione visibile che nella negazione delle forme
rassicuranti e del reale ci riporta all'essenza dell'uomo ormai turbato dal vivere caotico e dirompente, dove
l'apparire è più importante dell'essere: del vivere in armonia con il creato. Nell'analisi dell'artista si coglie la
ricerca di elementi significativi che si allontanano dall'esperienza reale per palesarsi in realtà staccate dal
concreto e in equilibri legati alla elaborazione del pensiero. Nel mondo dell'artista non c'è la forza
dirompente del colore che tutto vuol travolgere per significare i concetti ma delicati toni che danno senso e
significato ai sottili tratti che si dipanano seguendo il pensiero. Nell'opera di Eva Breitfuß emerge così la
forza creativa guidata dall'immaginazione e dalla genialità che spinge alla libertà che da significato ai punti di
riferimento segnati con circonferenze colorate e sfumate in toni più chiari e in modo intenso mai dissonante o
lacerante. Morbidi incroci di raggiere di linee si espandono dissolvendo il colore in pennellate che vibrano in
evanescenti cromatismi diventati espressione dell'intendere dell'artista che, con le sue opere, ci conduce ad
un'immersione nel suo mondo che mira a far emergere il valore del vivere in pace e in armonia con la
natura."
"Observing the works of Eva Breitfuß, one notices a multiplicity of expressive modes, which have an identifying, clear, and distinctive style. It is as if one immersed oneself in spheres that lead to geographies further expanding to infinity. They reveal themselves in galaxies that become imprints of light and lead to narratives that conform to the paths of the artist's thought, and finds the way into the essentiality of synthesis. The rhythmicity of the sketches in frames, repeated in succession, leads to a painting where form has lost its descriptive function and leaves space for the often rarefied sign and color. Her works are stories revealing themselves in light and soft colors. Like mandalas, they describe paths that represent the highest and deepest values of life. They are journeys of thought originating signs and ideal geometries that want to escape the rules harnessing creative spontaneity. It is the experience of freedom in both lines and speech that is lost in brushstrokes and expanding luminescences. In the stylizations, Eva Breitfuß brings out the imaginary connections with time and space, becoming tangible in the creative act. The spirals of thought emerge in the joy of living and in the hope of finding a world that leaves room for the essentiality of the formal and archaic contents inherent in man. Harmony of notes, curved and closed lines, larger or smaller, create patterns of paths that harness the imagination bringing thoughts back to the experiences of living, where the rhythm of a secret and melancholic music escapes the analysis of the rational. The traces of inner freedom seem to follow real paths. They become level curves punctuated by gardens of signs. Thus her creative inspiration goes into the mystery. It clarifies itself in visible expression that, in the denial of reassuring forms and of the real, brings us back to the essence of man now disturbed by chaotic and disruptive living, where appearance is more important than being and living in harmony with creation. The artist's analysis captures the search for significant elements that move away from real experience to reveal them selves in a reality detached from the concrete and in equilibrium linked to the elaboration of thought. In the world of the artist there is no disruptive force of color that wants to overwhelm everything to highlight concepts. Rather, the delicate tones give meaning to the subtle traits that unravel in following thought. Thus, in Eva Breitfuß works, there emerges the creative force guided by imagination and genius that pushes to freedom and gives meaning to the reference points marked with colored circumferences and shaded in lighter tones that are never dissonant or lacerating. Soft intersections of rays of lines expand, dissolving the color in brushstrokes that vibrate in evanescent colors that have become an expression of the artist's understanding. With her works, she leads us to an immersion in her world that aims to bring out the value of life in peace and harmony with nature."
Biography
Award-winning contemporary artist Eva Breitfuß was born and resides in Germany. She is self-taught in the Arts and believes that no matter what the endeavor, be it in artistic expression or the most mundane task, everything can be approached creatively and with clear presence. Eva believes that Consciousness is the foundation of all reality, the source of all creativity. For over 35 years, she has been exploring the field of Consciousness, multidimensional awareness and personal transformation. Primarily a visual artist, Eva has also brought her considerable creative energy to different modalities of movement, dance and working with others who long to enter the vast space of Consciousness and connect with their own soul. She invites others to join her in this exploration through her website: Der Leere Raum/ The Empty Space. You can read all about www.derleereraum.de
Eva calls her artwork 'Art Of Presence'. Her work has been exhibited in numerous solo and group exhibitions in USA, Italy, France, Monaco, UK, Spain and Germany. Her work has been highlighted in newspaper and magazine articles and has been acquired for several international private and corporate collections.
The artist is represented by the historical Galleria d'Arte Mentana in Florence, Italy.
Artist Statement
"My intention is to inspire an opening to consciousness, to presence and greater awareness. Whether understood or not, we each have the capacity to awaken to our own soul. My work is an expression of that truth. My paintings are an invitation. Regardless of the medium, Consciousness is at the center and I begin there. In the paintings, I start from the center of concentric circles, structures and lines. Though seemingly simple, it is the quintessence of a greater reality, quiet yet dynamic. I feel it as visual poetry where color and texture can transmit feelings, emotions and energy. Much can be expressed with only lines, dots and the silence between them. Color is of prime importance in my work. It represents the light reflected in each one of us. Every painting arises from the center of being, from a stillness that is dynamic, alive and vibrant.
My paintings are very personal expressions. Yet, at the same time, they are an attempt to get closer to the soul of who we are at our most essential level."
Exhibitions
2022
– The International Art Prize and Exhibition / Espacio Gallery, 'SEGNALATI' LONDON 2022
– 4º BIENAL DE ARTE BARCELONA|The MEAM (European Museum of Modern Art of Barcelona)/ Spain
– Digital Exhibition MONTREUX – Switzerland November 9 to 13, 2022// Art Screen TV
– International Prize PARIS/ Exhibition and Award Ceremony/ EA EFFETTO ARTE @ ART SHOPPING
LOUVRE
– 'RESILIENCE' 2022 The Healing Power of ART/ online Exhibition, an initiative of Manhattan Arts
International, NYC, NY
– Hyperion Hotel during ART BASEL 2022, Switzerland, Presented by Art Screen TV
– FLOWER OBSESSION |international group Show / Venice / Stefania Carrozzini Gallery
– AWARD CEREMONY – The Caravaggio International Art Prize – 'Great Master of Art' at the Sala del
Cenacolo of the National Museum of Science and Technology 'Leonardo Da Vinci' / Milan / Italy
– FLOWER OBSESSION |international group Show / Milan / MyMicroGallery
– ZONES OF IMMATERIAL SENSITIVITY |International Group Show / Camden Image Gallery / London /
UK
– AWARDS EXHIBITION 'MENTANA IN FLORENCE' | Galleria Mentana / Florence
– AWARD CEREMONY – The Leonardo Da Vinci International Art Prize – 'The Universal Artist' at Borghese
Palace/ Florence/ Italy
– PAINTINGS FOR CRITICS |Galleria D'Arte Mentana / Florence / Italy
2021
– 'INVITO AL COLLEZIONISMO' review of contemporary visual arts|Galleria D'Arte Mentana/ Florence
– ART PALERMO International Biennale|EFFETTO ARTE GALLERY/ Palermo/ Italy
– MONACO INTERNATIONAL ART FAIR |VAN GOGH Art Gallery Madrid / Monaco
– COOP / KUNST IST TÄGLICHER BEDARF / 15 JAHRE ATELIER-UND GALERIEHAUS DEFET
Nürnberg / Germany
– DAYS OF ART |Galleria D'Arte Mentana / Florence / Italy
– SPAZI APERTI – MOSTRA DI SELIZIONE |Galleria D'Arte Mentana / Florence / Italy
– GAIA -THE ORIGIN|M.A.D.S. MILANO /Milan / Italy
– FINESTRE SULL' ARTE|Galleria D'Arte Mentana / Florence / Italy
Recurring exhibitions 2006 – 2022
for more information on further exhibitions, please visit: https://www.evabreitfuss.space/new-page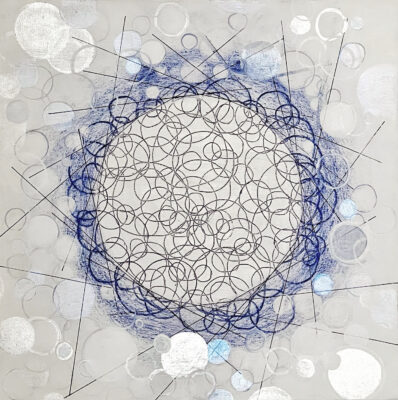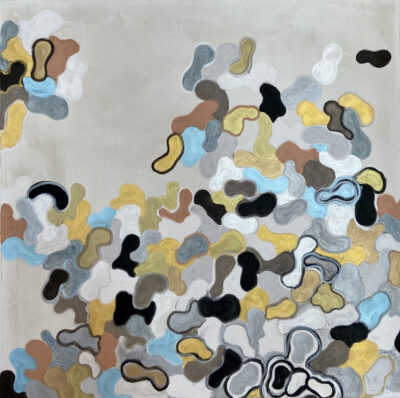 "ANTI-GRAVITY",60X60CM
Eva Breitfuß
Per visionare le opere in vedita dell' Artista Eva Breitfuß sul nostro E-Commerce Clicca Qui