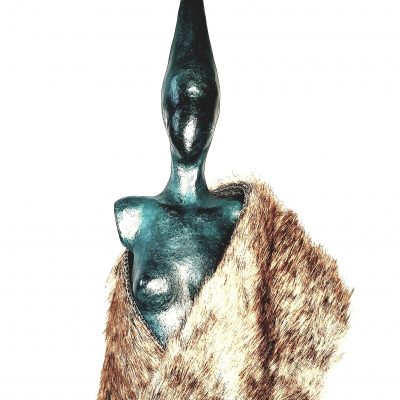 Frank Linke, vive e lavora a Berlino
Dopo aver studiato all' Hdk della città Berlinese ha continuato da autodidatta.
Nel corso della sua carriera ha anche acquisito conoscenze nella produzione di calchi e nella costruzione di stampe.
"Frank Linke
Nelle ceramiche dell'artista Berlinese Frank Link, forme di donne sinuose e dalle movenze intense, Minotauri danzanti e figure mistiche si fondono con il paesaggio circostante
Giovani Dee, docili ninfee, immortali muse, si palesano allo spettatore nelle loro infinite vesti, divenendo parte integrante della natura come se, in uno scambio reciproco, l'una non potesse esistere senza l'altra e viceversa.
Opere che nella loro nuda naturalezza esprimono tutta la gioia di vivere e, al contempo, la fragilità dell'essere umano di fronte alla grandezza del mondo."
Frank Linke
"In the ceramics of the Berlin artist Frank Link, forms of sinuous women with intense movements, dancing Minotaurs and mystical figures blend with the surrounding landscape.
Young Goddesses, docile water lilies, immortal muses, reveal themselves to the viewer in their infinite guises, becoming an integral part of nature as if, in a mutual exchange, one could not exist without the other.
Works that in their bare naturalness express all the joy of living and, at the same time, the fragility of the human being in the face of the greatness of the world."
1965                born in Lobenstein (Germany)
1986                first exhibition in Mittweida (Germany)
1990                studied fine arts HdK Berlin
1996                Exhibition Gallery Art Design Berlin
2001                Exhibition Lust and Lucifer Gallery Krause Berlin
2002                Internship Art Foundry Noack, Berlin
2010                Exhibition in Warsaw, Poland
2016                group exhibition Linke, Burr, Krüßmann,
Ratskeller Berlin-Friedrichshagen
2017                Group exhibition Linke, Burr, town hall in Leutenberg (Germany)
2022                Exhibition at Atelier Bruno, Berlin Friedrichshagen
2022                Group exhibition Christian + Frank, Galerie Mentana, Florence
Recurring exhibitions 2005-2022
Open studios Berlin Friedrichshagen
Open Air Gallery, Oberbaum Bridge, Berlin
Art Market – Mexico Square, Berlin
Art Market – Frohnau, Berlin
Per visionare le opere in vendita dell' Artista Frank Linke sul nostro E-Commerce Clicca Qui