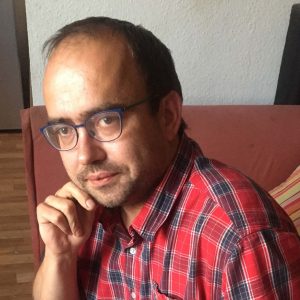 L'artista Christian Tschierske è nato nel 1983 a Bad Salzungen, in Turingia. Vive e lavora a Lipsia in Sassonia.Il suo primo contatto con l'arte è avvenuto nel 2005, quando ha frequentato seminari con Urs Regli, l'artefice della sua iniziazione pittorica.
L'artista è rappresentato per l'Italia dalla Galleria d'Arte Mentana di Firenze. La sua mostra personale sarà in Ottobre 2021.
Il risultato finale è uno stile che dà agio alla semplificazione delle forme e all'immersione in un mondo di altisonanti contrasti di colore, tra paesaggi incantati e l'amore per la natura.
La volontà dell'artista è quella di inventare qualcosa di nuovo sia nello stile che nella composizione, creando così un sottile ed elegante equilibrio tra la dimensione figurativa e quella astratta. Lo stile unico di Christian spazia tra la semplificazione quasi espressionista e un mondo surreale e fantastico.
The artist Christian Tschierske was born in 1983 in Bad Salzungen, Thuringia. Lives and works in Leipzig in Saxony.
His first contact with art took place in 2005, when he attended seminars with Urs Regli, the architect of his pictorial initiation.
The artist is represented for Italy by the Mentana Art Gallery in Florence. His solo exhibition will be in October 2021.
The final result is a style that gives ease to the simplification of forms and immersion in a world of high-sounding color contrasts, between enchanted landscapes and love for nature.
The artist's will is to invent something new both in style and composition, thus creating a subtle and elegant balance between the figurative and abstract dimensions. Christian's unique style ranges from almost expressionist simplification to a surreal and fantastic world.